Cindy blends modern, vintage and natural elements for a super-stylish tablescape. www.houseofcindy.com
When Cindy isn't heading off to an exotic destination like Morocco for the holidays, she loves getting in the spirit of the season with a festive refresh at her charming mid-century modern cottage in Los Angeles. You don't have to be a pro to transform your home for the holidays into a place of comfort, joy and beauty with a few simple tips.
First, pick a theme to get your seasonal look going. It's up to you whether you desire a traditional, classic holiday theme, filled with rustic, natural elements such as magnolia and greenery, or a modern, minimalist style that's sleek and sophisticated. It's all good! You can even combine multiple themes to create your own highly individualistic holiday. Cindy chose the latter route, mixing natural wicker placemats with modern stoneware dishes and vintage French salad plates for a rustic, yet elegant setting. An artful arrangement of berries put the finishing touch on her table.

An arrangement of berries in a treasured vase from her sister highlight the meaning of love and family during the holiday season.
Cindy also aimed to create a sense of playfulness and whimsy in her design. "It's all about bringing pleasure, happiness and delight into your home," she explains. To that end, she decked her tree with jumbo playing card "ornaments" and multicolored glass ornaments. She also created new pillows for the dining table chairs from a vintage Indian fabric featuring embroidered crewelwork in playful polka dots.
Recycle, reuse, restyle. Repurpose vintage furniture and accessories with a fresh makeover. And don't be afraid to incorporate found objects. Cindy discovered the settee at her dining table curbside. She had it reupholstered and lengthened the legs so the settee would be the proper height at table.
Jumbo playing cards deck the tree with a touch of whimsy.
Choose your color(s). Cindy's color story is all about red, red and more red (obviously). "Red is the classic Christmas color – it's incredibly energizing and happy," she says. "Red also symbolizes love and love is what Christmas is really all about." Cindy's find of a red Christmas tree at the LA flower market inspired her carry out her red seasonal theme. For the secondary palette, Cindy pulled black and white from an existing feather artwork above her sofa and incorporated throughout her interior. She styled her custom-built bookshelves with a mix of red, black and white books and objects, such as vases, to pull together the room. The finishing touch? A black and white chess set gives a nod to The Queen's Gambit.
Cindy drew from the feather print above her sofa to create a red, black and white color theme. www.houseofcindy.com
Remember to accessorize. Accents can make or break a room. Cindy recommends always including something vintage or special, like a family heirloom. Cindy's piece de resistance was a special gift from her sister, a beautiful opalescent vase that gives her table an extra-festive feeling. While the red tree will be taken down after the holidays, Cindy's feeling so partial to her lively polka dot pillows that they may remain in rotation for all of 2021.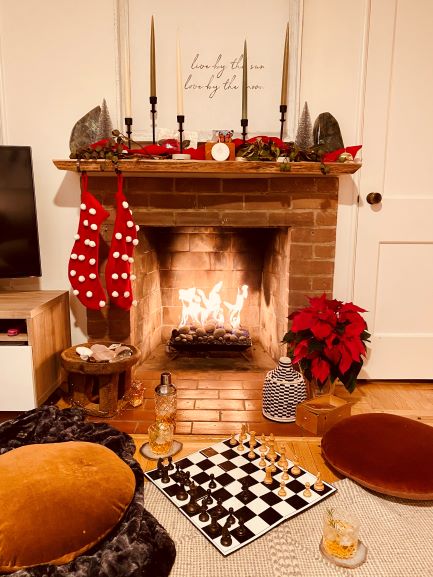 The chess set gives a nod to The Queen's Gambit. www.houseofcindy.com