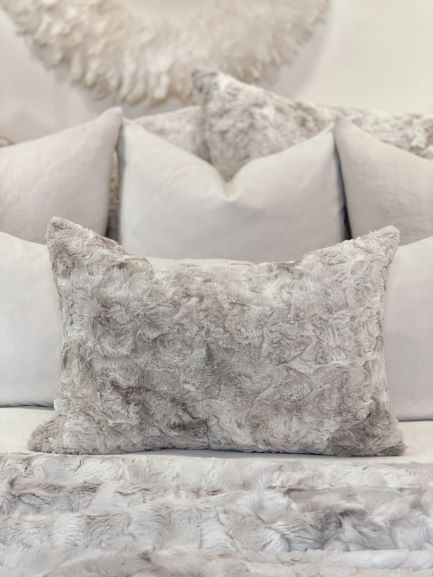 Luxuriously soft vegan fur cocoons you in cozy comfort. https://www.houseofcindy.com/
The rise of the vegan fur movement owes much to leading fashion houses like Stella McCartney banning real fur in their collections several years back. Cindy's new collection of vegan faux fur pillows, throws and blankets will appeal to vegans looking to embrace not only a vegan diet, but also a sustainable vegan lifestyle that extends to the home. Even if you don't adhere to veganism, we bet you'll be delighted with these gorgeous designs and feel good about supporting the environment.
What's not to love? Vegan fur is supremely soft (for snuggling, of course!), incredibly textural, and high-quality vegan fur can almost pass for the genuine article free from the stigma of animal cruelty. Case in point: no animals were tested or harmed in the production of Cindy's faux fur.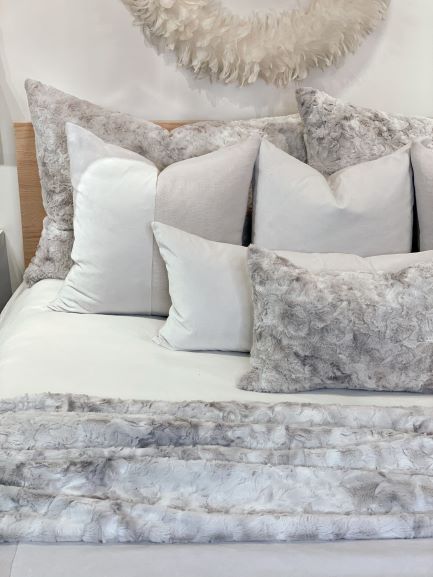 Cindy's new bed ensemble mixes vegan fur in Cozy in Granite, velvet in Gray Pearl and linen in Mist for a gorgeouse melange of gray hues. https://www.houseofcindy.com/
Cindy's new designs are fashioned from a tie-dyed vegan fur called Cozy in Granite, beautifully expressed in elegant, tonal shades of gray. Each blanket and pillow is fully machine-washable and backed with House of Cindy's heavyweight 12-ounce linen for a lovely weighted effect that is calming and comforting at once.
Cindy created a new bedding ensemble to complement her glamourous fur pieces to perfection; she paired existing designs from her eco-friendly linen collection in Mist. Then, she finished the look with a new velvet color called Gray Pearl for an effortlessly chic, easy-on-the-eyes bed.
"We combined the vegan fur, linen and velvet because the looked so amazing together," she explains. "Together, they bring to life a soft, dreamy palette of texture and light designed to induce serene slumber."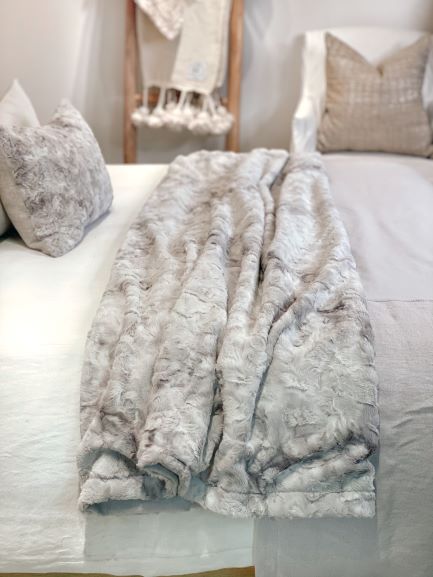 Surround yourself with plush sophistication in the vegan fur blanket, perfect lounging couch-side or in bed. https://www.houseofcindy.com/