With changing seasons comes those perfect opportunities to freshen up each space in your home. Whether you err toward sleek, pared-back minimal aesthetics or you love going bold with a myriad of accents and vivid colors, there are a ton of new trends that'll complement the design story you're conveying.
Let's take a look at some of the most gorgeous Fall decor trends for your home.
Casual, Modular Seating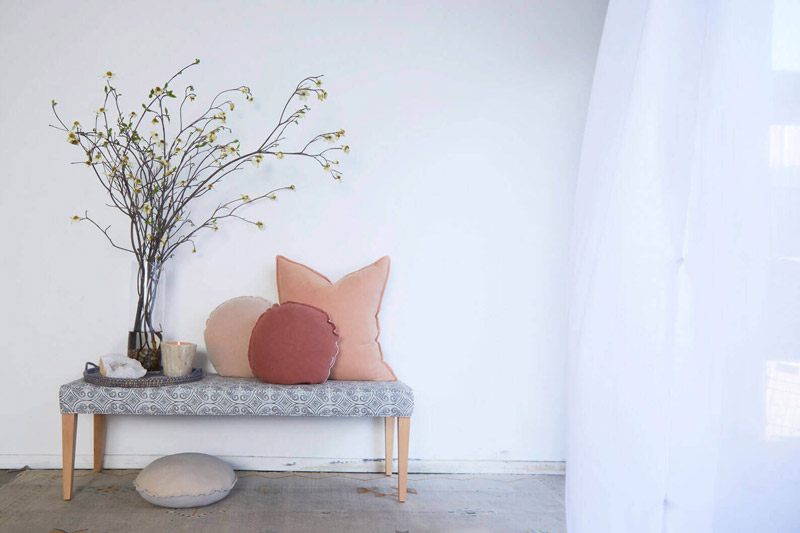 From interior magazines to the latest posts on Instagram, it's clear that seating arrangements are becoming more casual, open, and easy to rearrange.
At House of Cindy, we love that! It makes it super easy to move things around and change the dimensions and energy in any living space, if you can rearrange a bench, daybed, pouf, and fabric ottoman based on any mood or occasion. Entertaining a group of friends? Rearrange the seating to foster a sense of warmth and intimacy. Want to clear some space for meditation or yoga? Shift your seating to the side to open up the space and adorn it with a hand-loomed rug.
Color Palettes
Among home decor trends for Fall, new and inventive splashes of color are always exciting. With bolder elements and prints, Fall also gives ample opportunity to ground your color schemes in some warm and palate-cleansing earth tones.
One tone that's having a moment right now is terra cotta. It lends itself well to cooler blue and aquamarine tones, evoking a calm, yet exotic desert color story.
For those bold pops of color, you can't go wrong with yellow. As I recently wrote in a previous post, yellowis vibrant, authoritative, and rich with meaning and symbolism.
Blend yellow elements, like a chic accent pillow, with indigo and royal blue and you'll appreciate this warm burst of light as a centerpiece in your bedroom or living space.
Unexpected Accents
The latest home decor trends for Fall give you the opportunity to play up those perfect unexpected details, whether you're experimenting with new textures and prints or simply infusing your favorite room with some new elements.
Look around your home and consider those overlooked corners or spaces—those walls, floors, and surfaces that could benefit from a strong visual or tactile statement.
Adorn your entryway or living room with a Third Eye to invite deeper introspection. Or, opt for fun accents that play off of one another for pronounced and engaging visual contrasts.
Trends to Fall in Love With
However you choose to make a statement, we're thrilled to help you along your journey. Stay in touch and explore our newest sources of inspiration each season.