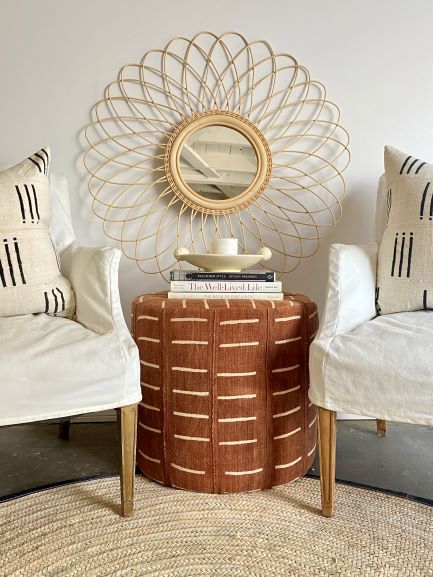 Perfect as either a side table or occasional seating, House of Cindy's African mud cloth Greer pouf makes a chic, eco-friendly statement https://www.houseofcindy.com/poufs/.
In response to the Covid-19 pandemic, House of Cindy Founder Cindy Ciskowski has opened a showroom in her hometown of Los Angeles – complete with luxury virtual concierge appointments. She transformed part of her existing design studio into a new showroom where designers can virtually experience her one-of-a-kind vintage textiles and luxurious linens to create their own unique and curated designs.
"The concierge showroom experience was created from a need to be of greater service to our customers at a time of uncertainty. Since travel was restricted, supply chains were compromised and the tradeshows where our customers would shop our exclusive collections were canceled," says Cindy. "I thought, 'Why not set up a luxurious virtual shopping experience that would be convenient, fun, easy and keep everyone safe.' Our pillows are custom-made to order and the virtual appointments give our customers access to our huge collection of vintage textiles, mud cloth textiles and the wide selection of colors in our eco linen collection."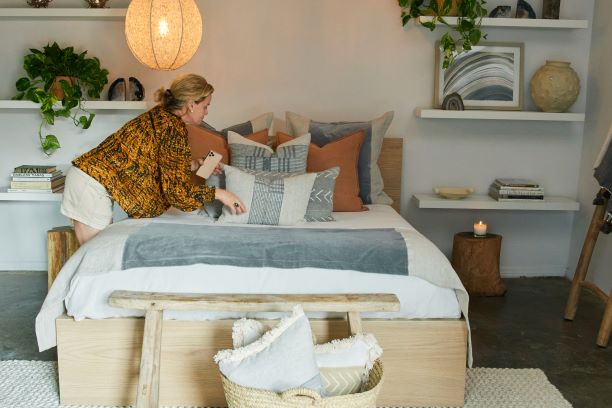 Cindy at work in her new showroom styling a bedding collection www.houseofcindy.com.
Each and every one-on-one appointment is with Cindy herself, as she guides clients through her extensive textile collections and the special customization options available – including custom color combinations and custom sizing on bed pillows, poufs, floor cushions and even dog beds. So far, the response has been more than enthusiastic, according to Cindy, noting that customers are simply in love with their pillows. "They get so excited when they receive them--they love the beautiful handmade quality, attention to detail and the exclusive House of Cindy colors."
Virtual concierge appointments can be booked at www.calendly.com. Cindy also offers in-person showroom appointments at her new location. Just remember your face covering – or you can personally choose from Cindy's lovely selection of linen face masks!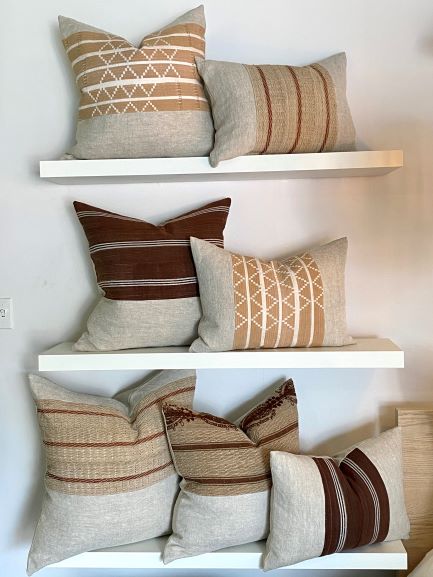 A selection of Cindy's gorgeous pillows www.houseofcindy.com/pillows.