The Venus candle evokes the goddess of love with a glorious Smokey Rose scent. www.houseofcindy.com
Textile atelier House of Cindy unveils its first-ever candle collection, designed to create a truly transformational meditation experience. Each hand-poured candle is dedicated to an ancient Roman god or goddess with a complementary, uniquely blended fragrance.
House of Cindy Founder Cindy Ciskowski became inspired to create the collection after becoming certified as a meditation teacher earlier this year.
"The meditation candle collection is an easy way to activate and heighten the senses and become more present while in meditation," she explains. "I've always been interested in mythology and gods and goddesses, as well as the archetypes they embody and what scents represented each one. Scent has an amazing ability to transport and heal one's emotions. The pairing became a multisensory way to activate certain energies in our lives through meditation."
The Venus candle, for example, pays tribute to the Roman goddess of love, beauty and passion. Because the ancient Romans associated roses with Venus as the flower of love and romance, Cindy chose rose as the top note in this beautifully nuanced, feminine fragrance. Base notes of musk and olibanum are layered with smoky warm middle notes of amber, vetiver, agar wood and cedar to evoke a rose garden in late summer blossoming with floral and earthly delights.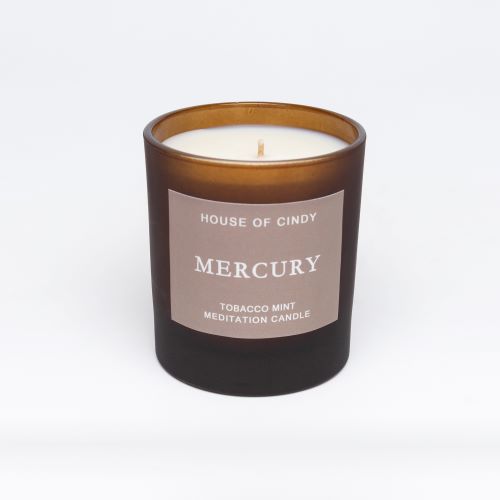 The Mercury candle layers bitter orange, dark chocolate and bergamot for a richly expressive fragrance. www.houseofcindy.com
The Tobacco Mint Mercury candle symbolizes the Roman god of communication, business and speed. Topped with mint, which is known to have an olfactory opening effect on the senses, and then blended with middling notes of jasmine, bitter orange, cardamom and bergamot, the candle features a base of dark chocolate to create a richly complex tobacco scent profile.
"When the Mercury Candle is burning, it's fantastic for communicating and helping you to speak from an open and empowered place," Cindy notes. "As the atmosphere becomes infused with the focused, mind-clearing frequency of mint, making it easier to breathe and receive. Jasmine calms your mind to support your meditation."
Cindy recommends Trataka Flame gazing, a common beginner's meditation which involves focusing intently on a candle flame for 10 minutes without distraction. You should sit in a comfortable place, she adds, with the candle at eye level on a stable surface. The gentle, soothing flickering of the flame constantly reminds the meditator to concentrate and stop thinking. Practiced over time the meditation will hone your attention and focus.
Locally made in Los Angeles, each candle is made with a proprietary natural coconut wax blend offering the cleanest burn on the market. In line with Cindy's commitment to the environment, the meditation candles are paraben-free, non-toxic, eco-friendly, non-GMO and never tested on animals. They are poured in a unique partnership with a non-profit that employs adults with disabilities to create a more empowered and meaningful life.
House of Cindy's new candles are perfect for a 10-minute flame-gazing meditation session. www.houseofcindy.com