When it comes to setting the table for Thanksgiving, House of Cindy Founder Cindy Ciskowski relies on the same effortless style and underlying principles she brings to her textile atelier. "Inspiration is everywhere and anything can be a source of creativity," says Cindy. "When I envisioned my Thanksgiving table, I was influenced by my favorite juice bottle and my grandmother Adaline's vintage enamel teapot to create a convivial atmosphere."
Inspired living is Cindy's mantra; the beautiful, handcrafted textiles she designs and sells underscore her personal philosophy of being kind to the earth by repurposing and upcycling vintage textiles into modern-day treasures. For her holiday table, Cindy drew on an eco-friendly theme by incorporating vintage elements for the design.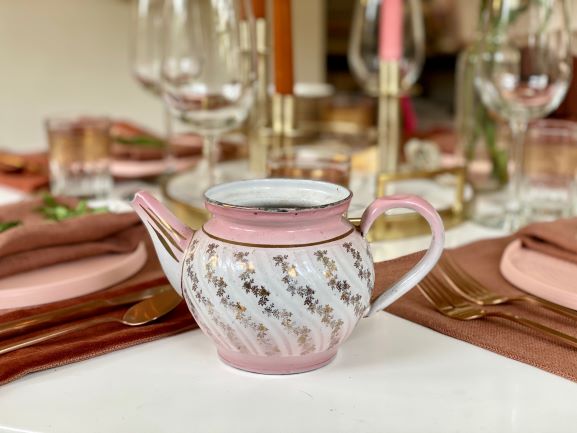 Her grandmother's pink enamel teapot set the stage for the rose gold and bark color scheme, while her favorite Moon Juice (Golden Serene) bottle was transformed into an exquisitely simple recycled vase, enhancing the setting with a rose gold logo.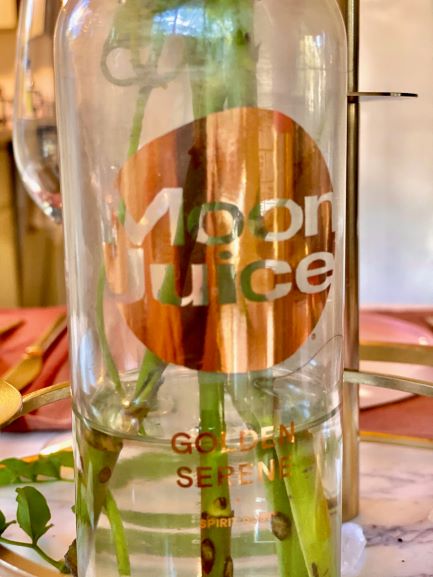 Thanksgiving is all about gratitude and honoring our ancestors, says Cindy, so I wanted to evoke a serene and elegant experience to share with family and friends.
Cindy chose House of Cindy linen napkins in Bark and placemats trimmed in velvet to add a feeling of organic luxury; she finished the look with color-coordinating linen and velvet pillows for the settee to provide cozy lounging space for her guests. Blush porcelain plates from Middle Kingdom were inspired by the hue of her grandmother's heirloom teapot, complemented by rose gold flatware.
Vintage chairs uncovered at the Rosebowl flea market surround the table. To add a level of comfort, she designed custom cushions and covered them in a casual mudcloth fabric.
Cindy's centerpiece this year is a brass-trimmed Carrara marble tray holding hand-dipped taper candles for a warm and luminous effect; there's nothing like candlelight to set the mood for pure enjoyment and relaxation. Cindy also believes in the power of natural crystals in interiors. She selected rough-cut red calcite as napkin decorations, a grounding stone believed to ease fears and increase inner strength.
And finally, to activate the sparkle of earth energy at the table she placed a quartz crystal grid anchored with golden aura quartz, known to restore energetic harmony and wholeness as well as joy.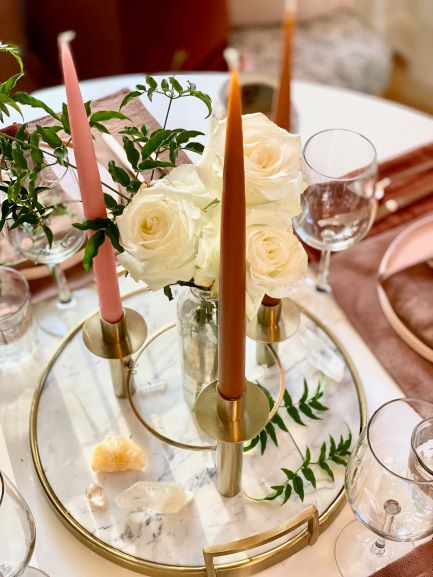 For the finishing touches to make your table simply perfect, Cindy suggests looking no further than your own backyard. She foraged in her own garden for leaves and greenery cutting vines from her jasmine bush to add a bit of living nature to the design, while highlighting the beauty of nature and her appreciation for the environment to stunning result.
"Creating a one-of-a-kind table doesn't have to break the bank," she says. "Look around your home and follow your eye and listen to your intuition to create your own unique holiday décor."
We hope this post inspires you to unleash your imagination and create your very own enchanting holiday table. Wishing you and your family the happiest and most grateful and serene of Thanksgivings.