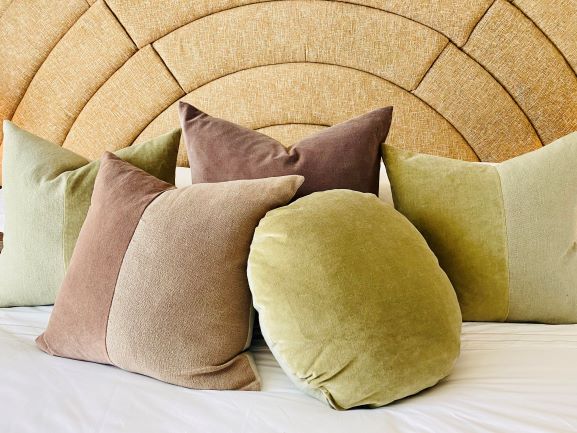 Fresh and airy gemstone-inspired hues allow for cozy cocooning. House of Cindy
While you may think of velvet as more of a seasonal textile with its gorgeously lush, weighty texture, let us tempt you with Cindy's new spring-ready velvet shades for year-round living. Introducing velvet into your interiors not only brings a regal elegance to your abode, but also offers the softness and comfort you crave.
"There's nothing quite like the plush feel of velvet against your skin," Cindy says. "Lounging at home on our velvety cotton throw pillows creates a cozy, almost dream-like cocoon for me."
Velvet, which has been produced since at least the 14th century, has long been revered by both royalty and nobility for its remarkable softness and inherent richness. Because of the intricate weaving process required to achieve the plush pile effect, velvet was then--and still is today--considered a comparatively costly and luxurious textile.
Soft Jade velvet is spring-ready. House of Cindy
"I love the supremely soft hand and dense textural pile of velvet," explains Cindy. "For me, velvet is the ultimate sophisticated expression of luxury that allows you to easily layer an element of richness into your interiors."
For spring, Cindy debuts light and airy hues inspired by semiprecious gemstones: elegant Pearl Gray, Rosy Blush, Pale Jade and warm Smokey Quartz. Designed to mix and match effortlessly, these fresh new hues infuse softness and luxury at once. Cindy also recommends pairing any of her new colorways with her existing styles in Ivory and Moonstone for a sophisticated, ethereal combination.
While many velvet cloths include synthetic fibers, Cindy uses only the purest cotton velvet for a premium luxe, eco-chic easy-to-live with experience. All designs are available in House of Cindy's exclusive proprietary colors.
The velvet pillows come in a variety of shapes of sizes, including bolsters and the brand-new Ronde (round). We say pile it on and let the cocooning begin!
The new Ronde pillow. House of Cindy