Indigo (Indigofera Tinctoria) is a plant dye that has traditionally been associated with peoples of southern Asia. The people of west Africa have also created their own distinctive handmade resist style for the Indigo color. Vintage indigo textiles are all the rage for home decor. Here are the best ways to use Indigo Pillows in the decor of your home.
A interior designer understands how the beauty of vintage indigo pillows can transform a room from boring to brilliant. The "one-of-a-kind" Indigo throw pillow allows one to create that distinctive vibe at home. Take a stark loft and add a layer of vintage indigo pillows to create a welcoming cozy environment. There is something about the combination of the rich indigo color and natural fibers that softens up a room.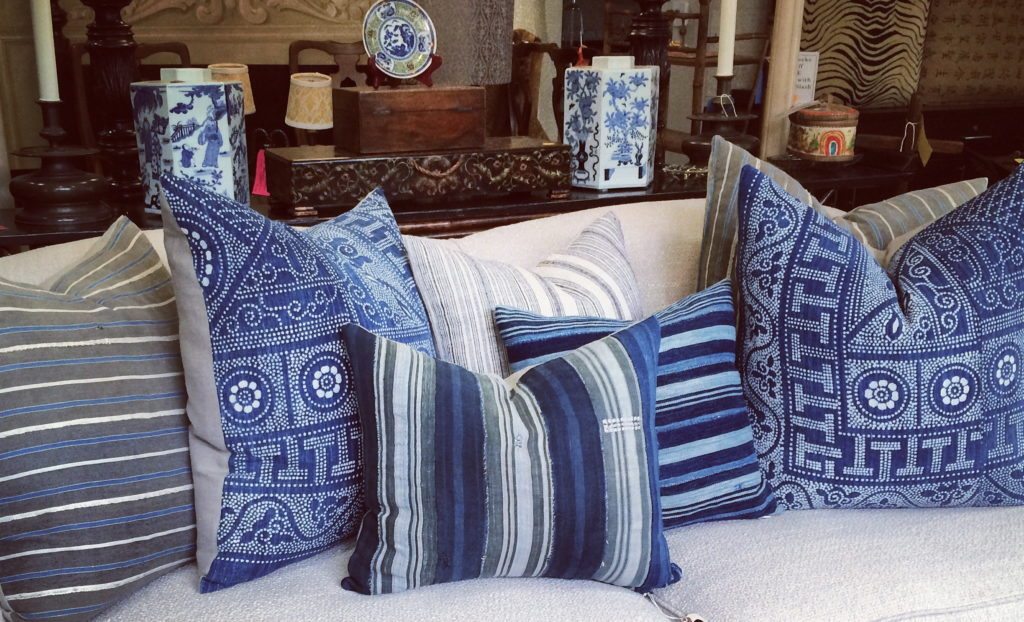 Natural Indigo Dye covers a wide range of color from a deep Violet to vibrant Blue.
Hinduism teaches that each color spectrum has an energy frequency to it. In the visible spectrum, Indigo is the color between blue and violet. Indigo is a very royal, authoritative color. In some countries, only the king could wear Royal Indigo Blue. Indigo Blue is attributed to an inner awareness and intuition and reflects great devotion, wisdom, and justice along with fairness.
Our hand-made, Indigo pillows allow you to create a distinctive environment for your decor. This home furnishing touch can be used to evoke moods or represent certain decorating styles. A solid or stripe indigo pillow tends to have a classic coastal style where a fringe detail or resist pattern dyed pillow tends to have a global Gypset vibe. Our Indigo pillows allow you to set the style for your home.
Mother Nature offers the intriguing Indigo color for your interior. This might be ideal for a beach house or lakeside home. Your pool house might be better featured with some matching Indigo Batik cushions.
During the summer, the Indigo Blue color can offer a soothing relief from the hot temperatures. The winter is a key time when the Indigo Blue pillow could offer a deep rich color to contrast colder conditions.
Create layers of color and comfort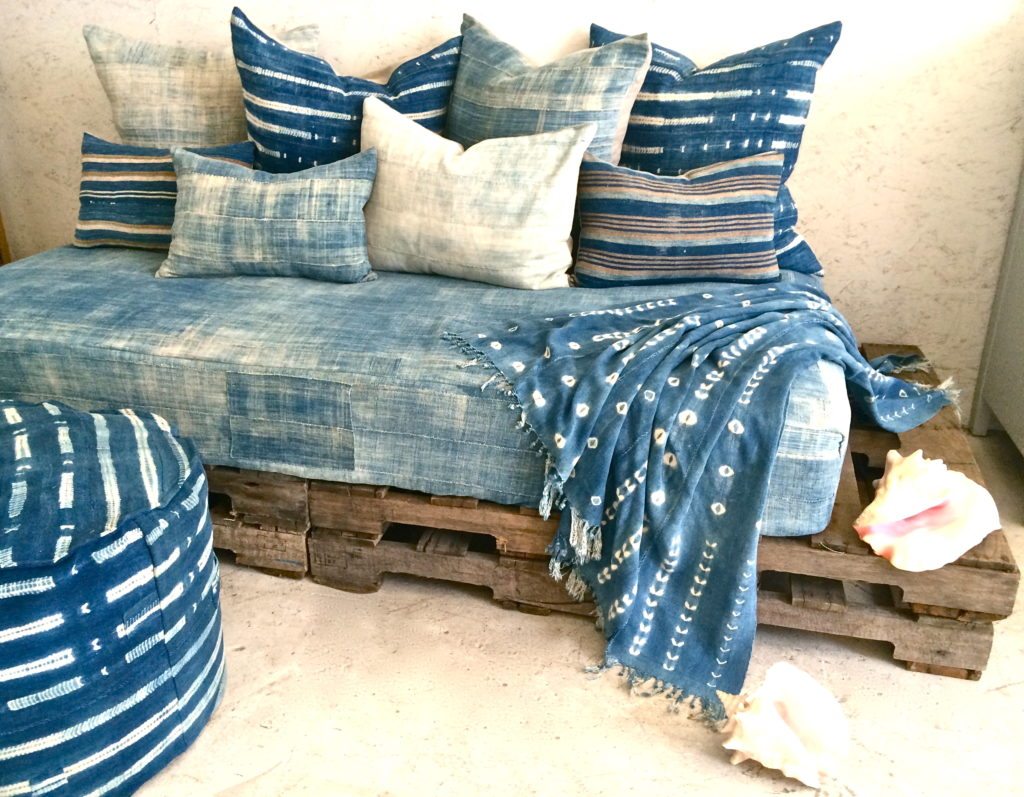 Accentuate the best features of your home decor with an attractive, one-of-a-kind hand-dyed indigo pillows. Throw pillows are a perfect accessory to your sofa, sectional or bed. You can glam up Indigo by pairing it with black or ivory, mixing it with natural tones and neutral fibers tends to make to more casual.
We hand select our vintage indigo from thousands of pieces and up cycle it in our Los Angeles design studio to create a beautiful pillows to make you happy. Unite your heart, mind, body and soul with the pillow known for delivering "good karma" and "good vibrations" - the House of Cindy Indigo Pillow.
We have both square, lumber and bolster Indigo pillow styles. There is a soft 10/90 feather down insert with a natural cotton liner exterior for each pillow. These are easy-to-clean due to their zipper enclosures. Enjoy lumbar support with a good Indigo Pillow.